Seven "Metatropes" for Harp
Myths and Legends of Paxos
A Music and Poetry Recital
In cooperation with Ars Modi Associazione Culturale
The work "Metatropes" for harp is consisted of 7 music pieces, the writing of which started in the midst of the pastoral environment of the Paxiot fall in September 2016 and was completed at Trento, Italy in December of the same year.
The inspiration was offered to me as a true gift by this splendid island with landscapes that immediately surround the visitor with serenity and detention, ideal conditions for a music composer.
Two other sources of inspiration equally stimulated me. Firstly, the title I chose for each music piece:"metatropi", a Greek word that in Italian it is translated as "transmutation", a technical term that I created, in order to describe specific aspects of my personal composing technique, which I call "pan-modality".
Secondly the reading of fragments of Greek Mythology liaised with Paxos intrigued me: the story of Poseidon and Amphitrite (Ysiode, Apollodor) as well as the enigmatic phrase of Plutarch "Great Pan is dead".
I started writing right after that, in stages and without a specific plan on my mind, with an active – so to say – war going on between the Legends and the 7 music pieces, which revoke with each step Amphitrite, Poseidon, Delphino and the God Pan (the last one especially being identified in my mind with Satire Pan without any concrete literary proof). The work was formed as follows:
Metatropi n.1 (fluido) Nymph Amphitrite dances happily and unsuspected in Paxos waters.
Metatropi n.2 (scherzando) Satire Pan runs around and enjoys himself within the Paxos woods.
Metatropi n. 3 (solido) God Poseidon realizes the presence of Amphitrite and he falls in love with her immediately. He courts her in a brusque and clumsy way.
Metatropi n. 4 (vago) Three lonely beings (those of Amphitrite, Poseidon, Pan) express themselves in melodies full of vagueness, melancholy and suspension.
Metatropi n. 5 (furtive) Delphino, loyal friend of Poseidon takes part in the search for Amphitrite through the seven seas. He finds her and manages to lure her with sweet talk and much persuasion on behalf of his master, Poseidon.
Metatropi n. 6 (leggendario) The God of the Sea finally thrilled, celebrates the conquest of Amphitrite's heart: he blows the waves to rise, he destroys the earth and rages a terrible storm with which he manages to cut off an extremity of the island of Corfu to create Paxos, a peaceful love nest, where he will be able to dedicate himself to Amphitrite.
Metatropi n. 7 (vigoroso) In the luxury of a majestic Dionysian feast organized by Satire Pan on the coast of Paxos, Poseidon and Amphitrite rejoice their union with frantic dances, characterized by sensual and turbulent dance moves by the Nymph as well as by the majestic and vigorous behavior of Poseidon.
The concert foresees the performance of the seven music pieces (of approximate 35' duration) by the Italian harpist Francesca Tiralle. Ideally it would incorporate the reading of Mythology fragments either from the ancient Greek original texts of Ysiode, Plutarch or Apollodor or from Modern Greek texts written especially for the show (of a 15' duration) and with translation in Italian and English. Even better, the cultural value of the particular work would find better appreciation on Paxos, if the texts were written by a local poet or author.
7 Poems especially writen for this event by local poet Eftyhia Mastora will be recited in between the performance music parts.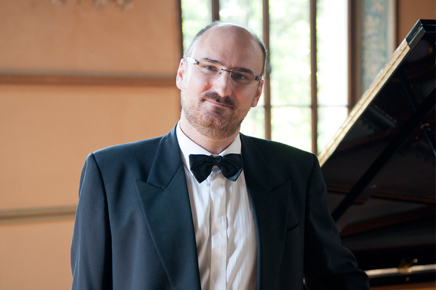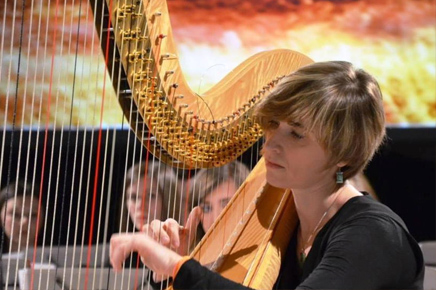 Composer: Edoardo Bruni
Translation from French: Faye Lychnou
In cooperation with Ars Modi Associazione Culturale