The work is based on a true story that took place in a poor mountain village of Southern Greece around 1850. The young heroine bride is put to death by her family after her husband discovers she is not a virgin on her wedding night. The original story is transposed to a timeless environment, in a Dante-like Limbo, a place for forgotten souls. In this space, the characters co-exist without, however, ever meeting each other, forced to confront their own memories, their rage, guilt, past loves and sorrows. By accepting responsibility for their past sins they are lead to penance and in the end, self-forgiveness.
From a musical and theatrical perspective "The Silent One" is connected to the ancient Greek traditions of lamentation. The characters mourn their fate and lament until they reach forgiveness and redemption.
Duration: 70'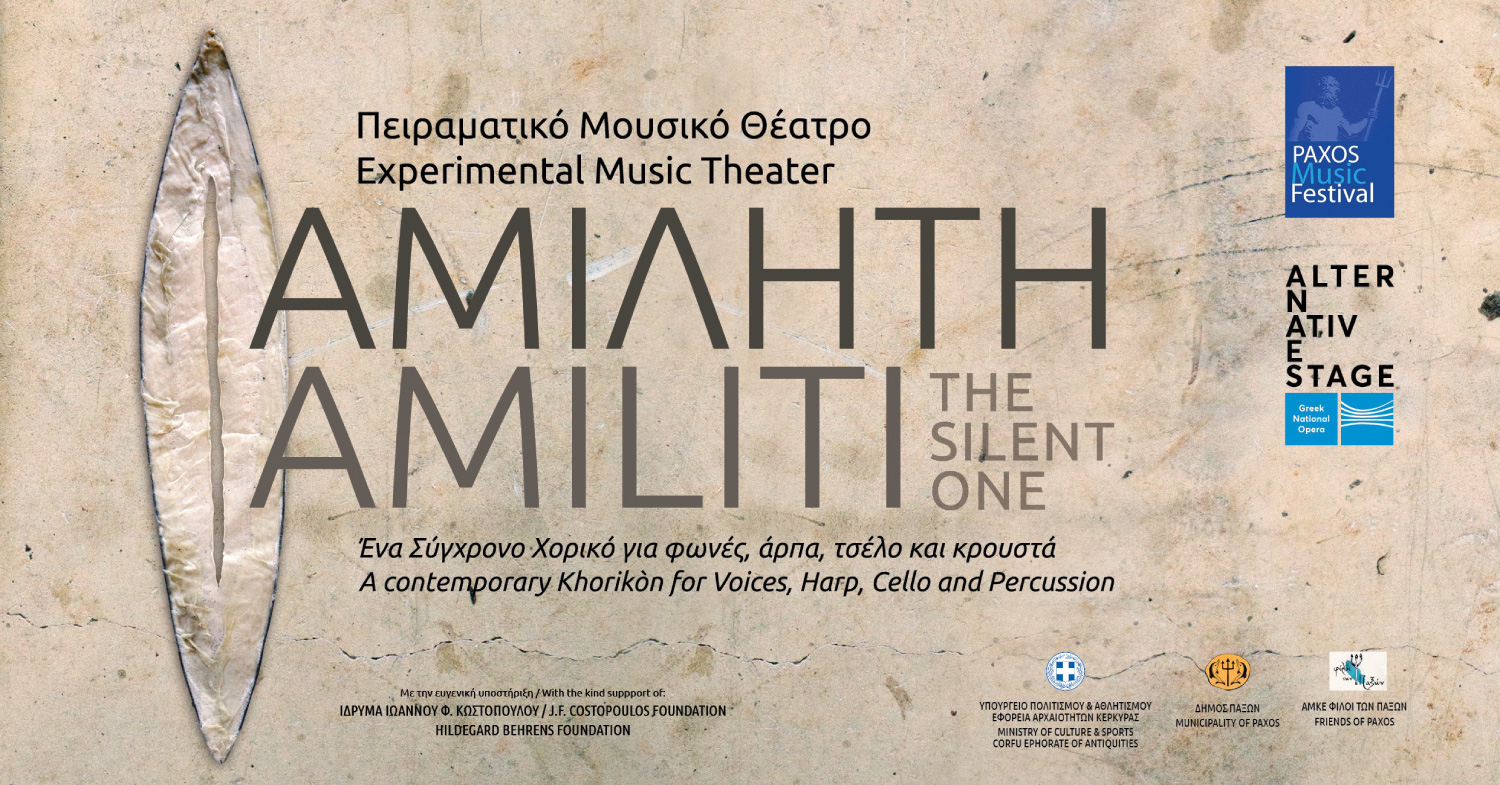 Composition – Instruction: Dimitra Trypani
Poetic Text: Padelis Boukalas
Set Design: Katherine Wise
Lights Designer: Valentina Tamiolaki
Costumes Designer: Dimitris Grammatikoyannis
Fine Arts Associate –: Nikos Kokkalis
Sound – Lights Mechanic on Paxos: Spyros Mastoras
Participants:
Milia, The Daughter: Sophia Ketentzian
Milia's Mother: Aliki Siousti & Georgiana Filippaki
Brother 1 – Kyriakis: Adonis Vasiliadis
Brother 2 – Sotiris: Alexandros Psychramis
Brother 3 –Diakoumis: Giorgos Kassavetis
Brother 4 – Panagiotis: Rafael Kritoulis
Brother 5 – Konstantis, the youngest brother: Nikos Zaziaris
Father: Giorgos Nikopoulos & Vasilis Pelantakis
Tiresias, the Oracle and Harpe: Gogo Xagara
God Observer and Cello: Dimitris Travlos
Following the Paxos Festival premiere, the production will travel to Athens for a series of three performances on the Alternative Stage of the National Opera at the Stavros Niarchos Foundation Cultural Center on 11, 12 and 13 October 2019.