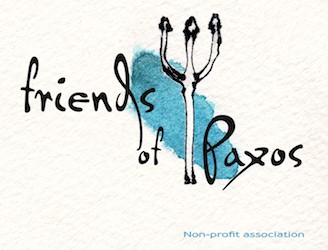 Dear Friends,
We have all experienced more than a year of quarantine restrictions; some of us have suffered loss, insecurity, fear, isolation, grief.
Paxos has been keeping up well within this somber environment; only a few youngsters had minor symptoms on the island and vaccination procedures are progressing fast, aiming to shield the population by the end of June 2021 with more than 4000 vaccinations of locals and residents of all nationalities.
Culture has been suffering greatly worldwide because of the pandemic and in Paxos we were obliged to cancel all cultural events in the past year. In Greece cultural events can currently take place only outdoors, with only 75% of a venue's seated capacity and with all usual precautionary measures.
We felt that a second year of complete inaction would mark the end of our festival's 35 years of cultural history; it would push Paxos off the cultural map of Greece, a position that Paxos has gained after many years of collective hard work and sacrifice on the part of the organizers.
So, this summer, we are finally in the position to invite you to a series of events around music, history and local knowledge dedicated to the bicentennial celebrations of the Greek Revolution against the Ottoman Empire and a visual arts events commenting on the environmental "footprint" of mankind on the sea and fresh water.
We hope to share again some lovely moments with you on our guided walks focusing this year on the history of water in Paxos:trails leading us to cisterns, aqueducts, springs and reservoirs. Our history walks will focus on sites related to the Greek Revolution of 1821 and the struggle during that decade leading to the independence of Greece.
All musical events and talks will take place outdoors in August and September 2021. Tickets and annual fees will be exclusively bought and paid for online.  This year we need the support of our members, our volunteers' network and of our audience more than ever, so please send us your annual contribution as soon as you can: see details at the end of our newsletter.
We whole heartedly hope to meet each other in person at last on Paxos and to enjoy together the thirty-fifth Paxos Festival events in safety and good health.
June 2021
Faye Lychnou, Chris Boicos, Kathryn Baird, Alessandra Pacce
Please visit the following pages for updates on our events: https://paxosfestival.com/
and  https://www.facebook.com/paxosmusicfestival/    
You can also contact us on: +30 6944633123
Piraeus bank account number: GR48 0171 5820 0065 8213 7876 427
Pay Pal account: https://www.paypal.me/AMKEFriendsofPaxos
Member of Cultural Organizations Registry of Ministry of Culture and Sports –
Registration number: 6927