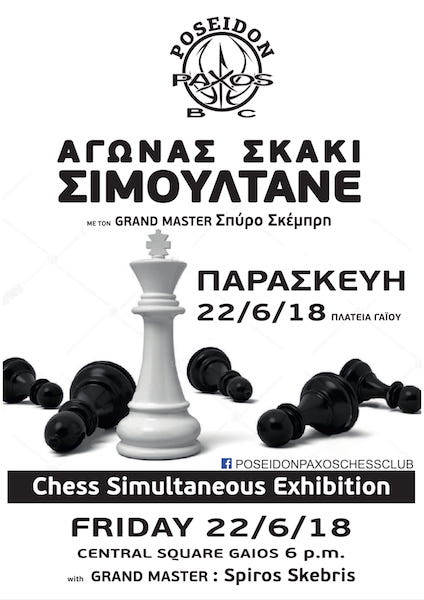 Invitation
Grandmaster Spyros Skebris is visiting Paxos invited by our Chess Department and chess trainer Dimitris Kolytas. He will be supervising the mini children's tournament of Poseidon Chess Club on Thursday 21st of June at K.I.P. Library in Gaios and he will be presenting a simultaneous chess exhibition at the square in Gaios on Friday, 22d of June after 6pm.
Please note that in case of rain, the exhibition will take place at K.I.P. Library in Gaios.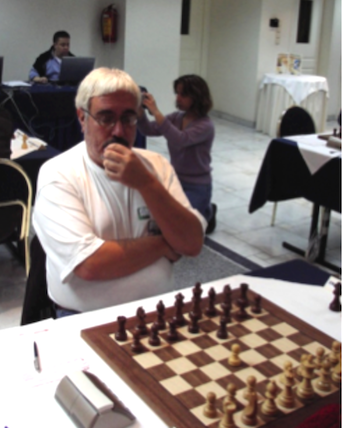 Spiros Skebris thinking on his next move
Spyros Skebris was born in Corfu in 1958. He first played chess at the age of 8. At the age of 15 he won the National Championship for chess players under 20 years of age. In 1977 he won 3rd position in the World Chess Cup for players under 20 years of age at Innsbruck, Austria. He was three times Greek champion at closed tournaments and three times Greek champion at open tournaments and won numerous prizes with his team (S.O. Kavala). In 1988 he received his grandmaster title in Istanbul. He has participated in international tournaments in Greece and abroad. He received 1st prize at tournaments in Cannes, Norway, Italy and Germany. In 1980 he became member of the National Men's Team, which participated at the 1st Chess Olympic Games and in 1996 he became coach of the National Men's Team. He took gold medal at the European Championship in Hungary. He is a permanent associate with the Chess Base & Informator webpage.
Registration: Any friend of the game of chess can participate at the simultaneous chess exhibition on Friday 22 June (any age, any level, whether they are Poseidon Chess Club members or not).
Please contact Faye at +306944633123 or Dimitris at +306989811912 or send an email to fayelychnou@hotmail.com or a message through www.facebook.com/poseidonchessclub